Hi, I'm Iljitsch van Beijnum. Here on iljitsch.com I publish articles and post links about
a range of topics
.
Also have a look at my business web site inet⁶ consult.
Gister was er een enorme uitbarsting van de Hunga Tonga-vulkaan in de stille oceaan. Er is al gezegd dat dit van het type "eens in de 1000 jaar" is. Een halve dag later arriveerde de schokgolf in de lucht in Nederland: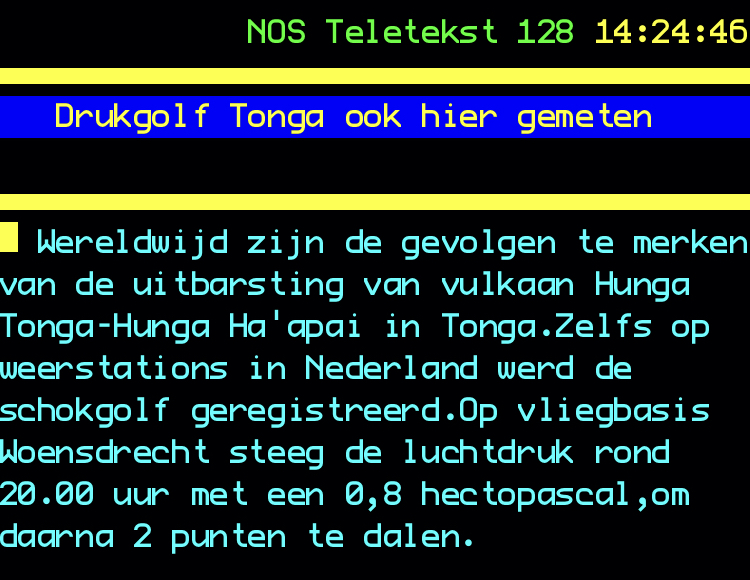 Maar niet alleen de gevoelige apparatuur van officiële weerstations merkte de drukgolf op, maar ook mijn Eve Degree, een klein apparaatje op mijn balkon dat temperatuur, luchtvochtigheid en luchtdruk bijhoudt: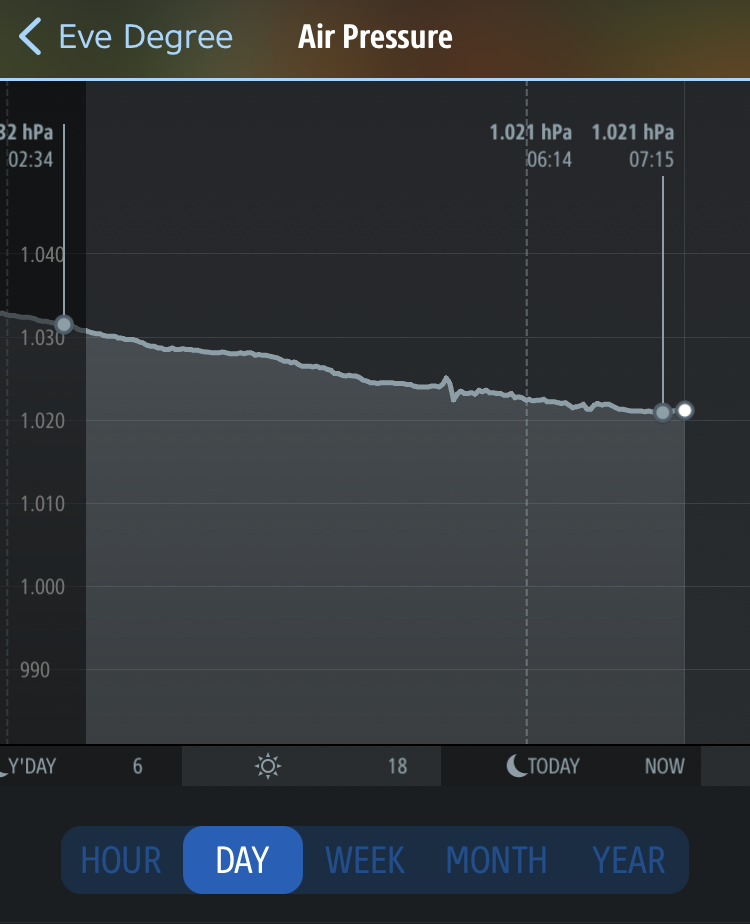 De Eve Degree slaat elke tien minuten een meting op. Tussen 19.54 en 20.14 u ging de luchtdruk omhoog van 1024,0 naar 1025,1 hectopascal (lees: millibar), en daarna om 20.34 omlaag naar 1022,4 hPa en na negenen terug naar 1023,2 hPa.
Zulke grote vulkaanuitbarstingen brengen zoveel kleine deeltjes in de atmosfeer dat er vaak een paar jaar een koelend effect op de wereldtemperatuur zichtbaar is.
Permalink
- posted 2022-01-16
► So now I got that new optical drive and can start burning CDs, DVDs, BDs (regular 25 and 50 GB blu-ray discs) and BDXLs (newer 100 and 128 GB BDs). But how long will those last?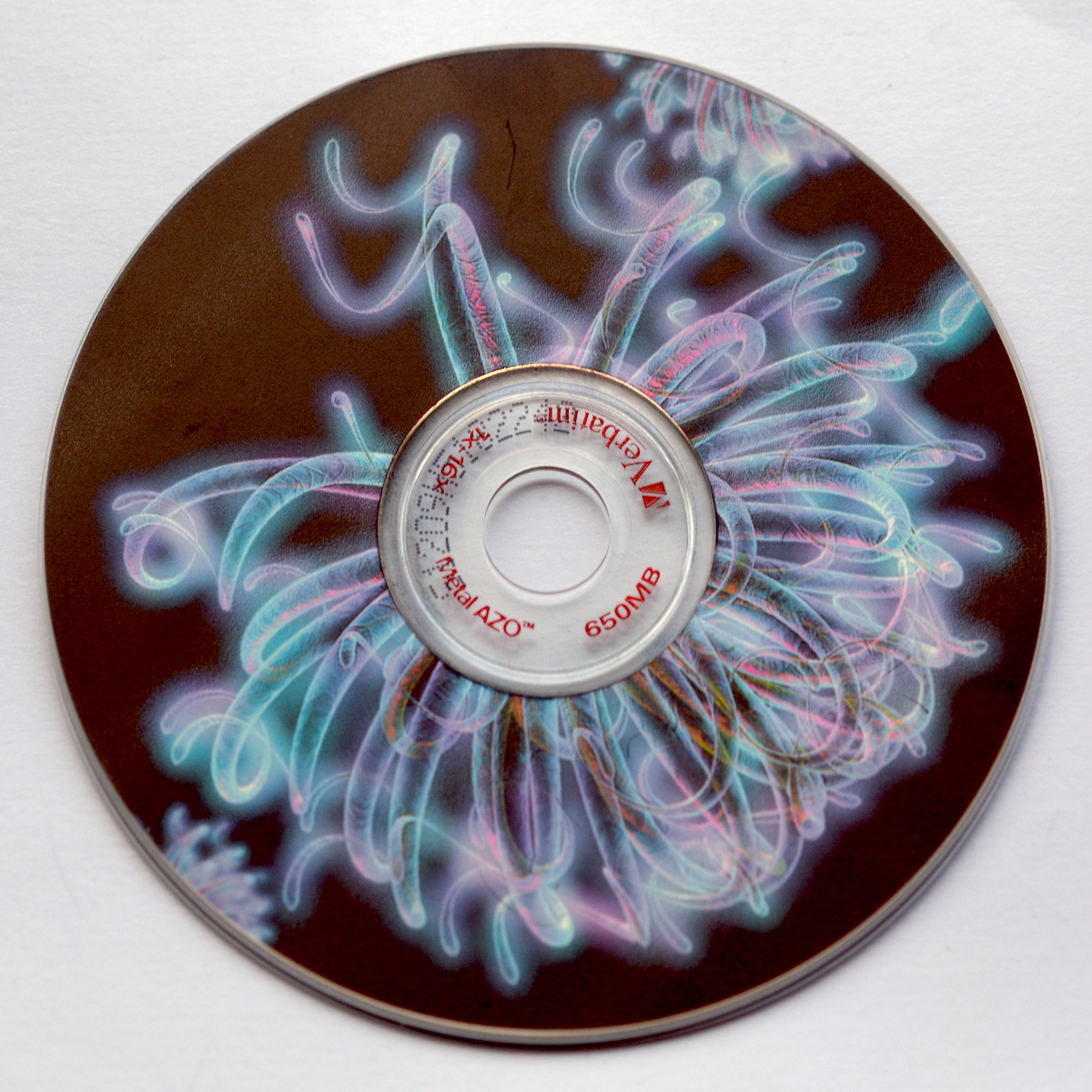 Full article / permalink
- posted 2022-01-09
► Last year I wrote posts about listening to the radio, watching TV and having a landline phone in the 2020s (in Dutch). Today, I want to talk about the place left for optical storage in the 2020s.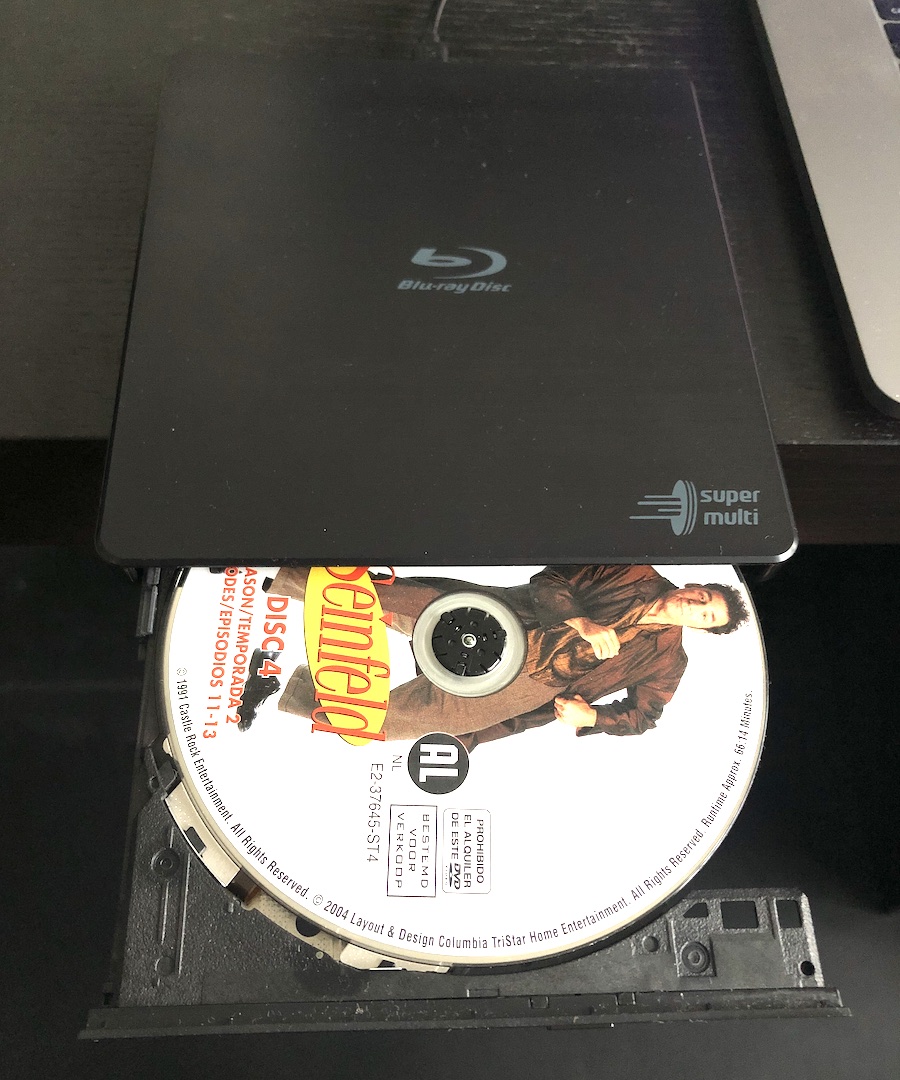 Full article / permalink
- posted 2022-01-02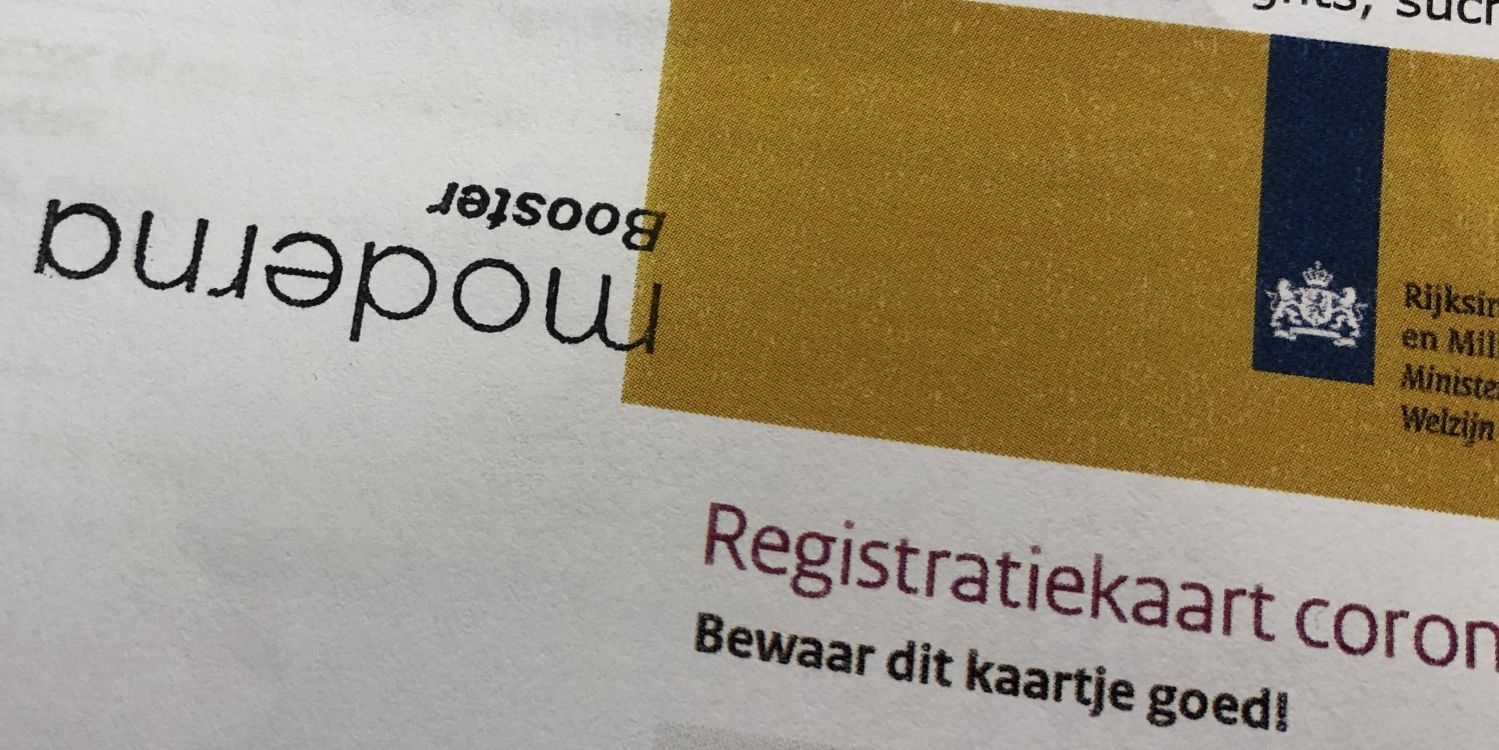 Apple iPhone 8 f/1.8, 1/33, ISO 32, 4 (28) mm (2021:12:29 10:07:15) GPS
Image link - posted 2021-12-29 in
Als je naar de grafieken van het aantal besmettingen met SARS-COV-2 in Nederland kijkt lijkt er totaal geen logica te zitten in de pieken en de dalen. Maar dit plaatje uit de presentatie van Jaap van Dissel bij de technische briefing van de tweede kamer deze week maakt in één oogopslag duidelijk wat er aan de hand is: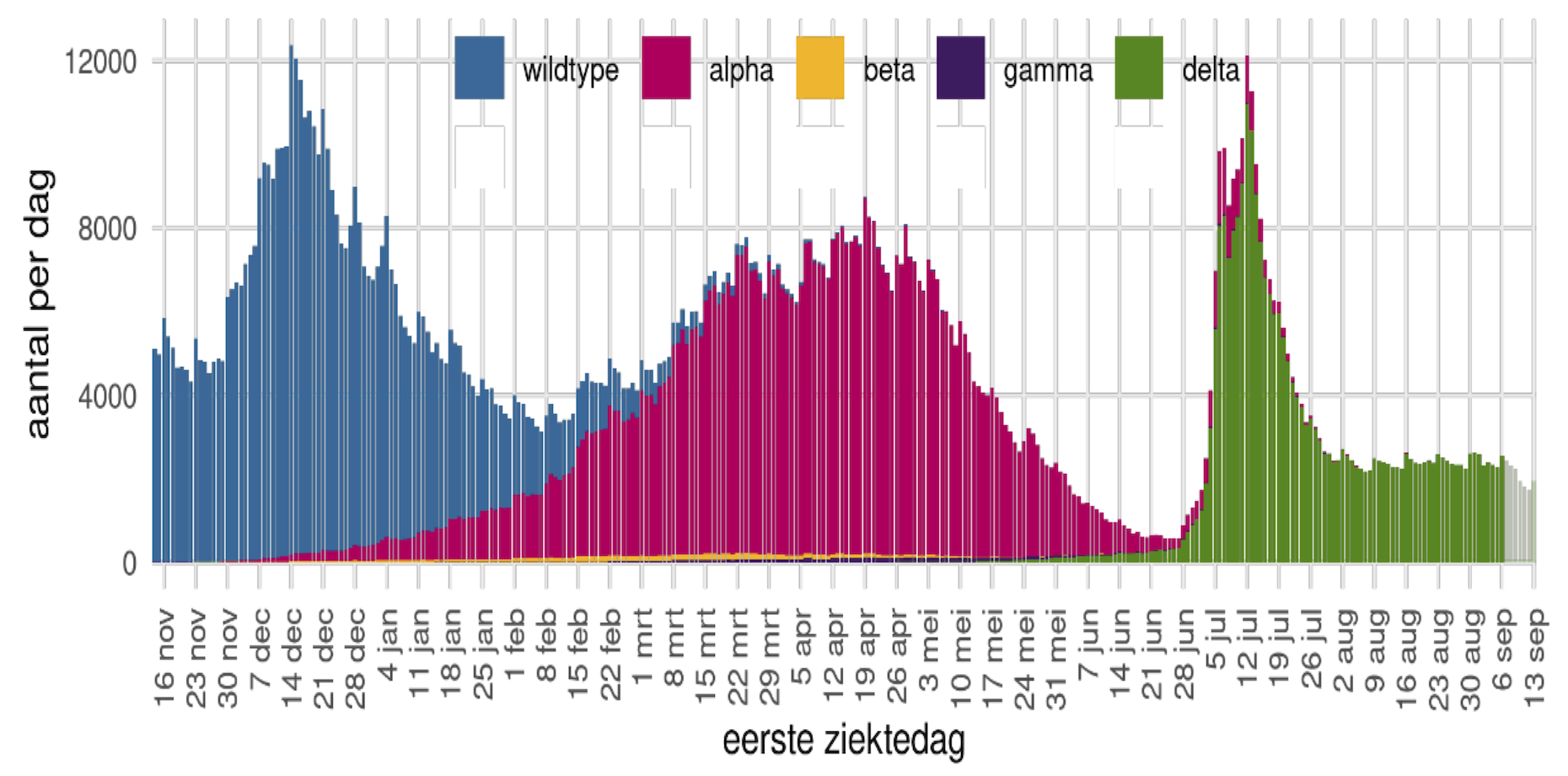 Een nieuwe variant betekent een nieuwe golf.
We zien in blauw de najaarsgolf van het originele virus, en dan in paars langzaam maar zeker de alfa-variant opkomen terwijl de originele variant langzaam wegebt. De alfa-variant zakt in het voorjaar weer weg... net wanneer de delta-variant langzaam opkomt. Dan de "dansen met Janssen" ronde van versoepelingen en de delta-variant schiet als een raket omhoog, om pas in september (buiten dit plaatje) weer weg te zakken.
En in het najaar kwam delta weer terug overal waar het koud werd. Interessant genoeg hadden warme gebieden juist in de zomer een piek, wanneer het te heet is om lang buiten te zijn en binnen de airco aanstaat.
En dan nu dus de omikron-variant. En dat is dan nog de "o mikron" (kleine o), wat gaat de "o mega" brengen, Ω, de grote O en laatste letter in het Griekse alfabet?
Permalink
- posted 2021-12-23

NIKON Z fc f/4.2, 1/20, ISO 180, 25 (36) mm (2021:12:22 08:33:57)
Image link - posted 2021-12-22 in