Time to write a new BGP book (posted 2022-09-29)
20 years ago this month, my book BGP: building reliable networks with the Border Gateway Protocol was published by O'Reilly.
My 20 author copies of the book arrived a bit later: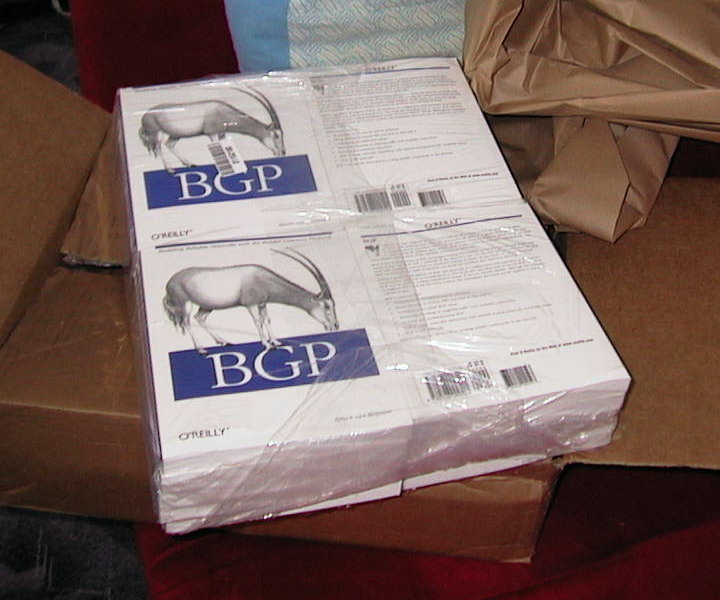 Back in those days, publishers would only order a print run if they thought they could sell those copies in a reasonable amount of time. (I think print runs of about 1000 copies to be sold within a year.) If not, no more print runs, and the book would be out of print.
But right around the time sales dipped below the levels required for continued print runs, it started to become possible to have books printed on demand. These days, print on demand shops will print a single book on demand, and you wouldn't know the difference between such a book and a traditionally printed one. So it looks like the old book will be available "in print" forever.
But isn't all the info in the book completely outdated by now?
Perhaps surprisingly, a large part of the book is still current and relevant. When the book was published, BGP version 4 had been around for about a decade. And BGP version 4 is still what we use today. But there have been many (optional) additions to the protocol, and the environment in which BGP finds itself today has evolved.
So time for something new. However, doing an update of the existing book was not in the cards.
So instead, I'm currently writing a new BGP book. This one will be shorter and focus on core BGP topics. It will also have lots of examples that you can try out yourself in a "BGP mini lab".
Keep an eye on this page for updates.