Posted 2013-10-31
No more bottlenecks: the late 2013 MacBook Pro reviewed
Over the next few days, I'll publish my review of the new 13" MacBook Pro here in several installments. This is the third one, looking at the MacBook Pro's I/O ports and wireless networking. Also see the earlier instalments about battery life and CPU performance.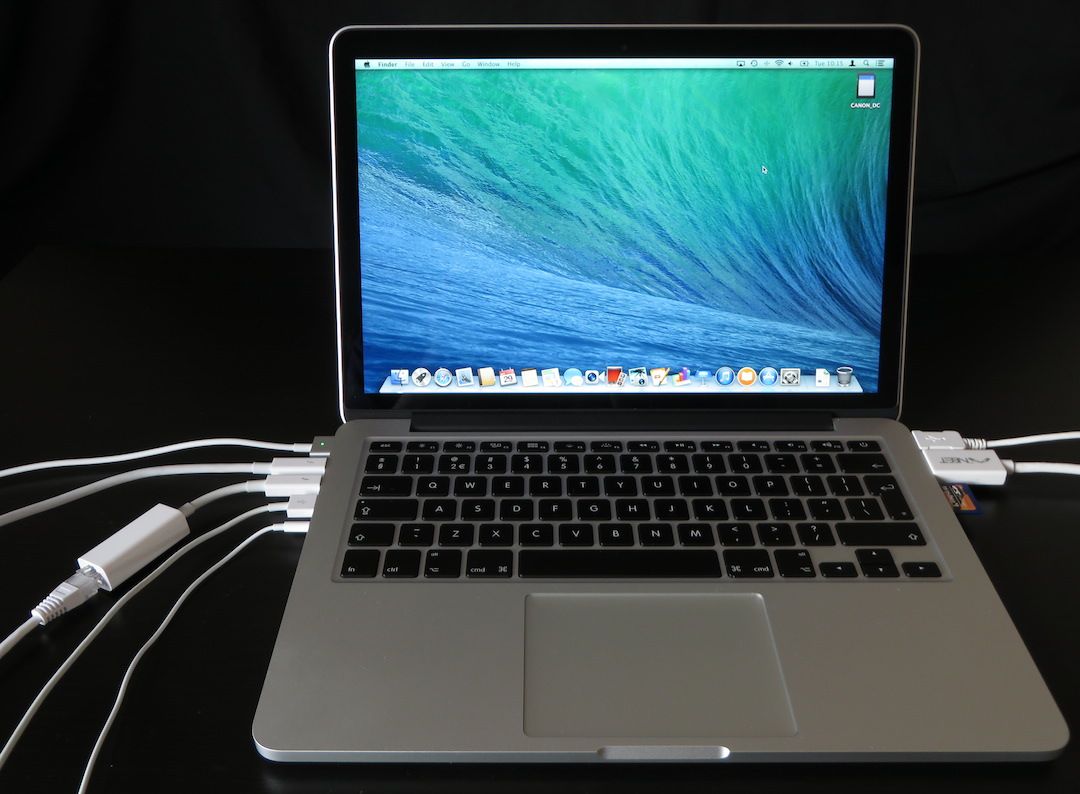 It's a point of pride to have something to connect to every port
Except for the surprise addition of HDMI not long ago, Apple has been moving away from special-purpose ports towards multi-purpose high speed ports: Thunderbolt/DisplayPort and USB.
The Thunderbolt ports now support Thunderbolt 2 at 20 Gbps. It may be a while before I have any peripherals that take advantage of this extra bandwidth. Apple introduced 5 Gbps USB 3 in last year's models, which is a very nice change of pace after having been on 480 Mbps USB 2 for a decade. I got a 2.5" bus powered USB 3 hard disk not long ago, which tops out somewhere around 30 MB/sec when used over USB 2. With USB 3, it can reach 110 MB/sec for sustained transfers.
The SD card reader is now connected over "super speed" (5 Gbps) USB 3 internally, so it should be able to keep up with the speediest SD cards. (Which mine certainly aren't at maybe 20 MB/sec.)
I tested wireless network performance using an 802.11ac Time Machine base station. I transferred a big file (a little under 2 GB) from an older computer connected to the Time Machine using wired Gigabit Ethernet and timed how long this took. This is not the best case scenario, because there is extra file sharing protocol (AFP) overhead and the average speed thus revealed is lower than the maximum speed reached during the transfer, because it takes some time to reach that maximum speed. But I wanted to test a typical use case without any optimizations. First, as a baseline, my old MacBook Air:
2.4 GHz 802.11n: 7 MB/sec
5 GHz 802.11n: 11 MB/sec

The MacBook Air can absolutely do better than this, but one of its problems is maddeningly inconsistent 5 GHz Wi-Fi performance. Both the MacBook Air and the MacBook Pro connected on the 2.4 GHz band when I woke them from sleep. In the past, the Air would then move to the 5 GHz band at some point. This may have changed under OS 10.9, or maybe it's just that the MacBook Pro is different in this regard, but over the past week, I've never seen the Pro switch from 2.4 to 5 GHz without toggling Wi-Fi off/on. These are the Pro's results:
2.4 GHz 802.11n: 13 MB/sec
5 GHz 802.11ac: 50 MB/sec

The MacBook Pro can do 1.3 Gbps 802.11ac on the 5 GHz band and 217 Mbps 802.11n on the 2.4 GHz. The Air tops out at 300 Mbps 802.11n on 5 GHz and 145 Mbps 802.11n on the 2.4 GHz band. (However, this includes a lot of overhead. By this logic, Gigabit Ethernet is 1.25 Gbps, not 1 Gbps.) The Pro has three Wi-Fi antennas, the Air two. So under ideal circumstances that's 50% extra speed. That doesn't entirely explain why the Pro is nearly twice as fast on 2.4 GHz as the Air, even beating the Air's 5 GHz performance. But I'll take it. It could be that the Wi-Fi antennas have an easier time doing their job because the display hinge, where they reside, is now bigger, and more exposed during normal use.
For good measure, let's look at wired networking performance, too. I got a Thunderbolt Gigabit Ethernet adapter when Apple released those last year, and a USB 3 Gigabit Ethernet adapter a few months ago. The Thunderbolt adapter did 85 MB/sec for receiving and 80 MB/sec for sending. The USB 3 adapter was maybe a couple MB/sec faster when receiving and a couple slower when transmitting, but this could easily be my imagination.
So there's no reason to choose the Thunderbolt adapter over the USB 3 one, especially as the latter also works with a USB 2 port when no free Thunderbolt ports are available. On the other hand, Apple's Thunderbolt adapter is plug-and-play and extremely stable, while the USB adapter requires installing a driver and I've had it stop processing IPv6 and sometimes all packets after several days of use a few times.
Even though 802.11ac Wi-Fi is only 40% slower than wired Gigabit Ethernet, it's still very useful to have a GE adapter for those situations where you need to transfer a lot of data between two computers—if both are connected through Wi-Fi, this reduces performance by half, so now you're at 30% of wired GE. Alternatively, you could get a Thunderbolt cable and do some Thunderbolt networking at 10 Gbps.